scroll down for english version





THORE SONESON / manusförfattare, mediaproducent, skribent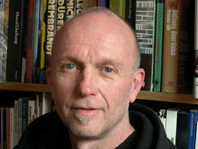 Presentation Under mina år som mediearbetare har jag strävat efter att kombinera journalistens integritet med producentens vilja att genomföra produktioner. Detta har jag lärt mig genom journalistiskt hantverk och arbete i medievärlden – TV / FILMBRANSCHEN / PRESSEN /
Idag har jag mer än trettio års erfarenhet av media och kulturarbete inom olika områden foto, journalistik, tidningsmakare, television, film. Jag har drivit projekt, initierat och genomfört dem i olika sammanhang. Mina roller i dessa har varit både konstnärliga och projektledande. Jag har utvecklat manus och arbetat med filmiska och mediala projekt, egna konstnärliga produktioner och beställningsprojekt inom företags- och marknadsföringssektorn.
Jag arbetar idag som adjunkt på Högskolan Kristianstad, har tidigare arbetat som informatör och kommunikationskonsult med uppdrag i offentlig förvaltning. Jag har arbetat som kursföreståndare/medialärare både på folkhögskola, mediegymnasiet och på universitetsnivå. Håller föredrag och arrangerar workshops i filmiskt berättande och gestaltning.
Projektuppdrag /
PRAMnetMEDIAlab producent 2015-2018 • Journey to Abadyl var en del av det europeiska forskningsprojektet The People´s Smart Sculpture genom Digital Design programmet på Högskolan Kristianstad. VR verket Genius Loci pε Kristianstad konsthall av Thore Soneson var del av detta konst/kulturprojekt.
Undervisning /
Digital Design Adjunkt, Kristianstads högskola, Filmiskt berättande, Interaktivitet
Yrkesverksam /
KRISTIANSTAD HÖGSKOLA kursledare Digitalt berättande 2012-nuvarande • VÄXJÖ KONSTHALL ATLETISKT kurator 2013 • MALMÖ NORDIC 2013 redaktör katalog • MEDIAMASSAGE projektledare Skånes konstförening, Malmö 2011-2012 • GLOKALA Fhsk kursledare Film/TV Malmö 2009 • JOHN BAUER GYMNASIET mediellärare Hässleholm 2007 • DAMANCO kommunikationskonsult text/film 2006-2010 • LUNDS UNIVERSITET informatör 2005-2006 • KVARNBY Fhsk Mediepedagog TV/FILM utbildning, Kvarnby Fhsk 2003-2004 • GRAFISK FORMGIVARE - formgivning av läromedel, kataloger 1997-2010 • TRIANGELFILM/KEDJAN filmdistributör 1996 •
RIKETS KULTUR programledare/producent, TV 2 Örebro 1989/90 • FILMSTALLET dramaturg, informationsansvarig 1988 • CRESCENDO FILM dramaturg, informationsansvarig 1984/85 • DAGENS NYHETER reporter på teaterred, allmänred 1983/84/87 • CHROME 22 programledare/reporter musikprogram TV 1 1981/82 • Rocktidningen SCHLAGER redaktör, skribent 1980/83 •
Utbildning /
MALMÖ HÖGSKOLA K3 Konst Kultur & Kommunikation kreativ producent 1999/2001
DRAMATISKA INSTITUTET Stockholm, Film & TV regi 1985
JOURNALISTHÖGSKOLAN Stockholm 1979/80
DRAMA TEATER FILM Universitetet i Lund 1974/75
Konstnärliga film / manusprojekt
WANDERLOST VR verket Genius Loci visades pε Kristianstad konsthall som en del av detta konst/kulturprojekt 2015-2018 >>>

Society Acts THE MODERNA EXHIBITION Filmproduktion till utstδllningen Society Acts, Moderna Museet Malmφ, sept 2014 •


BRÄCKT VATTEN Kortdokumentär 2012 •


SPÅR Musikvideo Staffan Hellstrand 2012 •


IT WAS SO SURREAL Trailer SUPERSURREALISM, Moderna Museet Malmö 2012 •


#01MEMORY filmisk essä 2010 •


IN SEARCH OF THE MILITANT CODE manus, 3D animerad kort film, samarbete med Michael Johansson 2008 •

LOOP 1.0, interaktiv flash film 2005-2006 •
THE STORY OF A Manusarbete, eget narrativt projekt. stipendie för målinriktat arbete från Konstnärsnämnden 2002 •
NEMESIS DIVINA eget långfilmsmanus i samarbete med produktionsbolaget Solid Entertainment AB i Malmö. Utvecklingsbidrag från SFI-långfilmskonsulent Niklas Rådström. 2002 •
NINA OCH SUNDET långfilmsmanus baserat på romanen av Fredrik Ekelund, uppdrag från produktionsbolaget Auto Images AB, Malmö 2001 •
SPEED interaktiv CD-rom, producent / manus / regi ansvarig. Multimediaproduktion i samarbete med Per Linde. Baserad på novellfilmen MAN, 1998. SPEED presenterades på NIC Gallery, Nordic Interactive Conference i Köpenhamn, nov 2001 •
DET SJUNDE SKOTTET biograffilm, manusförfattare 1996/97, premiär nov 1998 •
MAN egenproducerad novellfilm, manus och regi 1998 •
PASSION manus, videoregi, multimediaföreställning MALMÖ KONSTHALL 1995 •
TV 2 MALMÖ manusförfattare/dramaturg - YASEMIN PÅ FLYKT 1989-91 - BERNARD FOYS TREDJE ROCKAD 1991-93 •
Thore Soneson :: t.soneson[at]gmail.com ::
tel :: +46 040 973195 / 0734 339222 ::
adress :: Hantverkaregatan 12, S-211 55 Malmö, Sweden :: #top
ENGLISH VERSION /
THORE SONESON / scriptwriter, mediaproducer, director /

My main occupation are fiction writer / developer of projects based on the expanding possibilities of storytelling with the moving images. I have written feature films, interactive stories and produced CD-rom and DVD-projects based on moving image material.

One of the founders of the nordic network PRAMnet, a multidisciplinary network for media arts professionals involving technology developers, researchers and artists. More info >>>
Professional art media creation (selected film / media)


Society Acts THE MODERNA EXHIBITION Filmproduktion till utställningen Society Acts, Moderna Museet Malmö, sept 2014 •


BRÄCKT VATTEN (swe only) short documentary on crosscultural relationships 2012 •


IT WAS SO SURREAL Trailer to SUPERSURREALISM, Moderna Museet Malmö 2012 •


#01MEMORY video essay 2010 (ongoing) •


IN SEARCH OF THE MILITANT CODE script, 3D animated short movie, collaboration Michael Johansson 2009 •

LOOP 1.0 interactive flash movie 2005/2006 •
THE STORY OF A interactive narrative script. Multimediaproduction in cooperation with Per Linde, Interaction designer. Development grant from Konstnärsnämnden 2002 •
NEMESIS DIVINA feature film script 2002 •
NINA OCH SUNDET feature film script based on the novel Fredrik Ekelund, 2001 •
SPEED interactive CD-rom, producer / script / director. Multimediaproduction in cooperation with Per Linde, Interaction designer. Presented at NIC Gallery, Nordic Interactive Conference in Copenhagen, nov 2001 •
Employment _ Commissions ( recent )
KRISTIANSTAD University – lecturer, interactive storytelling and new media 2012 - present • ATLETISKT Curator art exhibition - Växjö konsthall 2013 • MALMÖ NORDIC editor, artist catalogue 2013 • THORE SONESON PRODUCTION graphic design, educational books in print, on film, webb and moving media platforms 1997-ongoing • SKANES KONST - project coordinator MediaMassage 2011/2012 • TV-PRODUCTION - GLOKALA Folkhögskolan, teacher 2009 • DAMANCO COMMUNITY communication adviser and project leader, media content creation and integration of information systems, webb-mobile-print 2006/2008 • LUNDS UNIVERSITET information officer, journalist print-webb 2006 • MALMÖ UNIVERSITY, K3 workshop leader, project adviser on bachelor level 2003/2006 • KVARNBY FOLKHÖGSKOLA TV/FILM media education, teacher/coordinator 2003/2004 •
Employment _ art media creation (past)
DET SJUNDE SKOTTET feature film, scriptwriter 1996 98 • MAN short film, script/director/producer 1998 • PASSION multimedia performance MALMÖ KONSTHALL, scriptwriter, videodirector 1995 • TV 2 MALMÖ scriptwriter/consultant - YASEMIN PÅ FLYKT 1989/91 • BERNARD FOYS TREDJE ROCKAD 1991/93 •
RIKETS KULTUR weekly art review, producer, TV 2 Örebro 1989/90 •FILMSTALLET, script consultant 1988 • CRESCENDO FILM, script consultant 1984/85 • DAGENS NYHETER, writer 1983 84 • SCHLAGER, music/art magazine, editor, writer 1980/83 •
Education •
Malmö University K3 Art and Communication, creative producer, Master class. 1999/2001 •
University College of Film, Radio, Television and Theatre, Stockholm, Film & TV direction 1985/86 •
The Department of Media, Journalism and Communication, Stockholm University 1979/80 •
DRAMA TEATER FILM Lund University Drama Theatre Film 1974/75 •
Thore Soneson :: t.soneson[at]gmail.com ::
tel :: +46 040 973195 / 0734 339222 ::
adress :: Hantverkaregatan 12, S-211 55 Malmö, Sweden ::
uppdated 2020-01-28